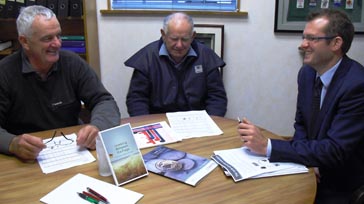 In today's complex operating environment it is vital to get the right advice. Our specialist accounting experience in many different industries means we will be able to offer key insights and advice to ensure you make the best strategic decisions for your business. Choosing a good accountant and developing an ongoing, professional relationship will be a key decision and finding the right "fit" will result in you having a vital partner for your business as it progresses through the various stages of its life-cycle. We are conveniently located in Taihpe in the heart of the Northern Rangitikei, perfect for all local and Central Districts businesses.
Ryan, Thomas & Co are Chartered Accountants
The New Zealand Institute of Chartered Accountants' Code of Ethics sets out the professional and ethical expectations of members. Under this Code, we undertake to:
be straightforward, honest and sincere in our approach to professional work
be impartial, intellectually honest and disclose any conflict of interest
maintain a high standard of competence and complete all professional obligations with due care and in a timely manner
carry out all work in accordance with the relevant technical and professional standards
conduct ourselves in a manner consistent with the good reputation of the profession
respect our client's confidentiality
be independent in the general sense of the word.
We also commit to
undertake mandatory professional development (we travel around the country seeking the best courses relevant to our clients' needs)
adhere to our code of ethics and professional standards
7-years of training to achieve the designation for new members
being reviewed in our public practice by Chartered Accountants Australia and New Zealand.
How should you choose an accountant?
It is vitally important to look for a practice or and individual with specialist accounting experience in your industry or one similar. You need someone that you can relate to and rely on; someone who can quickly understand your business, your goals and aspirations. This alignment of values will be a great asset to the relationship that you will build and as you work together on strategies for the financial management of your business.